I follow the 'Faces of Loss, Faces of Hope' page of facebook and saw this status update this week:
I read this in an article today, which only strengthens our need to make stillbirth less taboo...
"Across the globe, around 3 million babies are stillborn every year—more than 8200 babies a day. There are twice as many stillbirths as deaths due to HIV/AIDS, which have rightly received so much global attention and action. By contrast, stillbirths are almost invisible, unrecognised as a global health issue."
It makes me sick that this happens so often yet (until it happened to me) I heard nothing on the subject.
Some days I want to tell every pregnant woman I see to monitor EVERYTHING those last few weeks. I don't want anyone to go through this kind of pain & sadness. I'm one of those who skipped the chapter on stillbirth - it wasn't going to happen to me, that's what happens to 'someone else'. Wrong.
Now, how to spread the word without freaking people out? Not sure what I'd have done had someone 'warned' me when I was pregnant. I might have still had the same mentality I had when I skipped those chapters in the books. But maybe not...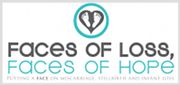 Click

HERE

to enter the Faces of Loss website